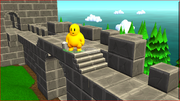 Bricktron builders are given orders by the player to move and place blocks in order to construct buildings. Bricktrons ordered to build will take blocks from the Stockpile to player designated Phantom Blocks in order to complete construction. The Bricktrons will find the closest path from the Stockpile to the Phantom Blocks in order to complete construction in the shortest possible time frame. Once the Stockpile runs dry, the Bricktrons will stop work until such a time that more blocks are added to the pile.
Ad blocker interference detected!
Wikia is a free-to-use site that makes money from advertising. We have a modified experience for viewers using ad blockers

Wikia is not accessible if you've made further modifications. Remove the custom ad blocker rule(s) and the page will load as expected.